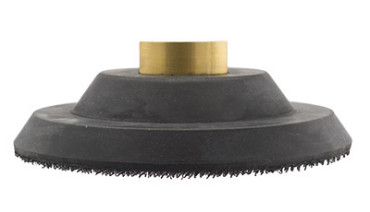 Most of our backing and support pads for use with polishing foams, sanding abrasives and wool and microfibre accessories use a GRIP fixing to enable easy change between different or accessories. GRIP is a type of hook and loop fixing, where the GRIP pad uses tiny hooks to connect with a velour fixing on your abrasive or foam.
Under normal circumstances the stronger the adhesion between the hook and loop the shorter the GRIP's life cycle will be, so we use a range of different GRIP types to ensure a secure fastening, while prolonging the lifespan of the pad.
Grip Technologies

Mushroom Grip
A standard GRIP fixing, mushroom hook offers a secure and fast way to change between any velour backed abrasive or foam. Has a particularly strong adhesion, with a medium lifespan.
J-Hook
J shaped looped hooks, with good ahesive strength and a longer lifespan.
Microhook
Extremely short miniature hooks, with a low peel stregth making them easier to remove, but a higher shear-strength, keeping the abrasives firmly attached during use.
The flat smooth surface of micro-hook can also be used with PSA abrasives making these a multipurpose pad.
T-Hook / EXTRAGRIP
An elongated, toughened, T-shaped hook that embeds into the 3D mesh of non-woven abrasives and surface conditioning discs. Not compatible with the standard GRIP velour found on our foams and abrasive discs and our for use with SCD discs only.
PSA – Pressure sensitive adhesive
This is an alternative to the GRIP hook and loop system, using a self-stick adhesive style fixing. PSA pads use a flat surface rather then hooks to be stuck to be a PSA abrasive.
---